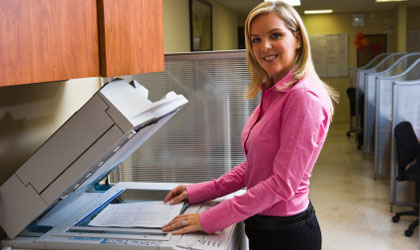 Every office has its own set of needs from the kind of staff to the right equipment. Every business in every industry should have exactly what they need to be able to provide for their target clientele. No matter how good your people are, if you don't give them the right equipment to help them be good at their job, your specified clientele will always want to look for another provider.
Copiers and printers have become a staple in any given office. In fact, it has become practically impossible to run an office without these types of machines particularly because they help produce proper documentation for every transaction. Although the call to go paperless has become stronger in the digital age, companies cannot deny that there is still a great need to keep those documents printed. The digital copies may be good, but the hard copies always come better.
Why buy copiers?
Buying a copier for your office needs has always been the goal, but copier lease in Reno offers so many more benefits than one could imagine. A copier lease agreement is much like buying your own copier for the office. Perhaps the only difference is that it comes with less liability and more of the benefits. When you choose to lease the copier, you are giving yourself the gift of expert care. When something goes wrong and the copier needs fixing, the leasing company will send their expert technician to do the job. You will be free from worry about how it can be fixed.
Having a copier in the office is so much more beneficial than that of owning a printer. An inkjet printer is indeed a blessing to a lot of companies especially those that need both black and colored printing. The inkjet printer makes printing services more affordable to the public and to
businesses as well. The only downside to owning an inkjet printer is that it is just a printer. It only does the printing of documents and nothing more.
If you own an inkjet printer, you know you need to buy other equipment to do the scanning of the documents on hand to make digital copies of them. You also need to buy a fax machine because that helps in communicating with the clients especially when you target to impress large corporations. In addition to that, you will also need to purchase a separate copier so that it
would be easier to produce copies of the documents you already have.
How do you save on costs?
When you have the need to do all four – printing, copying, scanning, and faxing – then you will have to decide to take on the better option. Copiers are a must-have even in this digital age because it outworks all the other machines that are available in the market today. With the purchase of just the copier, you are getting yourself a fully functional machine that can do the job of four different machines. If that does not spell savings for you, then there is nothing more. Copiers are indeed the best product the market has to offer because it is simple yet practical.
Spending more money buying one equipment after another is just a waster of resources that can be used to develop another aspect of the business. Today, you have the option of buying the copier or to take on that copier leasing agreement. Either way, you are getting yourself the equipment that you need to serve your clients better. Copiers are a must-have because with it comes a huge difference between what competitors have to offer and the difference you can significantly provide.